At UConn's Torrington campus – the only baccalaureate-degree granting institution in Litchfield County – this is the year of the scholarship.
With jobless rates near 10 percent nationally and 14.8 million Americans unemployed, students everywhere have been feeling the pinch. State aid to public universities has dropped as well, making the argument for private giving even more compelling this year.
In this context, the Torrington campus recently decided to focus its fundraising efforts on creating and funding more scholarships.
"I think our decision to focus on scholarships has much to do with the economy, as well as with countless informal conversations we've had with students who need support," says Michael Menard, director of the Torrington campus. "Despite the affluence of Litchfield County communities, many students at the Torrington campus struggle to pay for the costs of higher education, and each year a greater and greater number of our students work full-time, or near to full-time, in order to pay for their education."
Anna Petrisky is one UConn-Torrington student who has benefited from scholarships. A married mother of two children, Petrisky will finish her bachelor's degree at Torrington with the hope of going on to UConn-Storrs for her master's. "I am forever grateful for what has been given to me," she says. "By remaining a Torrington resident, I have been able to establish a sense of community where I live and at the regional campus as well."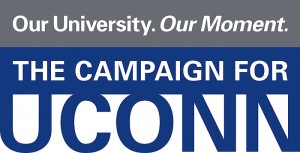 Menard says most of the students who graduate from the UConn-Torrington campus remain in Litchfield County, forming an educated populace that works to better the county's economy and way of life, and supporting the area's companies, retail shops, farms, and non-profit institutions.
That means that an investment in scholarships for UConn-Torrington students is an investment in the economic vitality of Litchfield County, he says.
Menard hopes to award 10 $2,500 scholarships to local students each year. There are two ways to give to ensure that the scholarships continue over the years: through small, annual gifts that are used to create a spendable account, or through major gifts that establish a permanent endowed account; the investment returns from the major gift account are then used to fund the scholarship awards.
For more information on supporting the regional campus in Torrington, please contact the Foundation's development department.